A mixture of blanched ground almonds, sugar and glycerin or other liquid. Almond extract is sometimes added to intensify the flavor. Almond paste is used in a variety of confections and is less sweet and slightly coarser than marzipan. It should be firm but pliable before use in a recipe. If it becomes hard, it can be softened by heating for 2 or 3 seconds in a microwave oven. Once opened, it should be wrapped tightly and refrigerated. Almond paste is available in most supermarkets in cans and plastic packages. Bitter-almond paste is used to flavor the famous amaretti cookies.

From The Food Lover's Companion, Fourth edition by Sharon Tyler Herbst and Ron Herbst. Copyright © 2007, 2001, 1995, 1990 by Barron's Educational Series, Inc.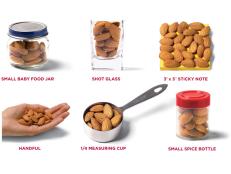 One serving of almonds equals 23 nuts, but if you're not one to count up your snacks, use this visual guide to help you control portions.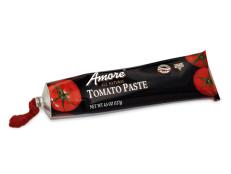 Hot Tips From Food Network Kitchens' Katherine Alford: How to tame the super-concentrated flavor of tomato paste.