Pronunciation: [AM-ah-ranth]

Once considered a simple weed in the United States, this nutritious annual is finally being acknowledged as the nourishing high-protein food it is. Amaranth greens have a delicious, slightly sweet flavor and can be used both in cooking and for salads. The seeds are used as cereal or can be ground into flour for bread. Amaranth seeds and flour can be found in natural food stores, as well as in some Caribbean and Asian markets.

From The Food Lover's Companion, Fourth edition by Sharon Tyler Herbst and Ron Herbst. Copyright © 2007, 2001, 1995, 1990 by Barron's Educational Series, Inc.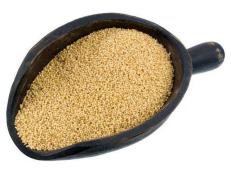 This under-appreciated grain is a perfect way to get in your whole grains, plus it's gluten-free. Get tips on cooking it and creative recipes to try this tiny grain.