This combination of pounded anchovies, vinegar, spices and water comes in tubes and is convenient for many cooking purposes. It can also be used for canapés.

From The Food Lover's Companion, Fourth edition by Sharon Tyler Herbst and Ron Herbst. Copyright © 2007, 2001, 1995, 1990 by Barron's Educational Series, Inc.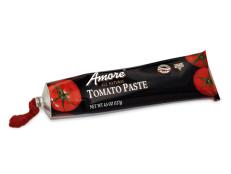 Hot Tips From Food Network Kitchens' Katherine Alford: How to tame the super-concentrated flavor of tomato paste.