Pronunciation: [ah lawn-SYAN]

French for "in the old style," describing a traditional preparation method (usually for beef) of braising, then simmering.

From The Food Lover's Companion, Fourth edition by Sharon Tyler Herbst and Ron Herbst. Copyright © 2007, 2001, 1995, 1990 by Barron's Educational Series, Inc.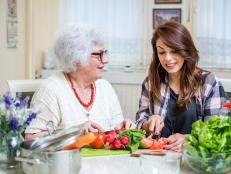 A nutritionist takes a look at the relationship between diet and longevity.