An uncooked, semiliquid mixture (thick or thin) that can be spooned or poured, as for cakes, muffins, pancakes or waffles. Batters are usually mixtures based on flour, eggs and milk. They can also be used to coat food before frying, as in batter-fried chicken.

From The Food Lover's Companion, Fourth edition by Sharon Tyler Herbst and Ron Herbst. Copyright © 2007, 2001, 1995, 1990 by Barron's Educational Series, Inc.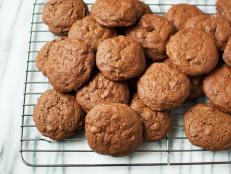 Trisha Yearwood's Brownie Batter Cookies are dense, rich and a chocolaty bite of cookie pleasure. Get the recipe.