Culinarily, the term "to bind" can be used in two ways: 1. The process of making ingredients stick together in a mass by adding a binding ingredient, such as breadcrumbs or eggs. For example, meatloaf ingredients are bound together so they can be formed into the shape of a loaf. 2. To thicken a hot mixture by adding any of several ingredients such as butter, cream, eggs, flour, and so on.

From The Food Lover's Companion, Fourth edition by Sharon Tyler Herbst and Ron Herbst. Copyright © 2007, 2001, 1995, 1990 by Barron's Educational Series, Inc.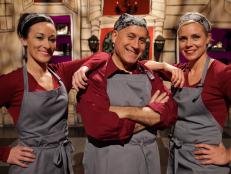 Hear from the members of Spell Binders, one of five teams competing on Halloween Wars, Season 5.