In cooking, a binder is a thickening agent for soups, sauces and other mixtures. Beurre manié, roux, egg yolks or starches such as flour, cornstarch and arrowroot are among those agents used for thickening. A binder is sometimes also referred to as a liaison.

From The Food Lover's Companion, Fourth edition by Sharon Tyler Herbst and Ron Herbst. Copyright © 2007, 2001, 1995, 1990 by Barron's Educational Series, Inc.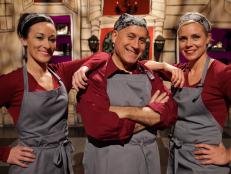 Hear from the members of Spell Binders, one of five teams competing on Halloween Wars, Season 5.