An American corn-based whiskey whose name comes from Bourbon County, Kentucky. Bourbon can be made legally in any part of the United States, though most of it still comes from Kentucky. All bourbon is based on one of two types of mash (grain that's ground or crushed before being steeped in hot water and fermented): sweet mash, which uses fresh yeast to start the fermentation process from scratch; and sour mash, which combines a new batch of sweet mash with a portion of the residue from the previous fermentation, a technique similar to that used in making sourdough bread. The resulting liquor is often labeled sour mash bourbon. Straight bourbon is distilled from a mash of at least 51 percent but not more than 79 percent corn. If there's more than 80 percent corn, it must be labeled corn whiskey. Straight bourbon must also be aged in new, charred oak barrels for a minimum of two years (although most bourbons are aged for four years or more), must not be over 160 proof (80 percent alcohol) and can only use water to reduce the alcohol level. Single-barrel bourbon comes from a single barrel; the number of the barrel is typically printed on the label. Small-batch bourbon generally refers to a high-quality bourbon blended from selected barrels.

From The Food Lover's Companion, Fourth edition by Sharon Tyler Herbst and Ron Herbst. Copyright © 2007, 2001, 1995, 1990 by Barron's Educational Series, Inc.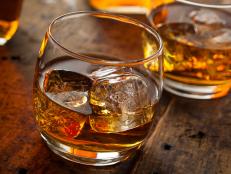 One enterprising bourbon maker says it can speed up the distilling process and complete years of aging in just a few hours.