Acclaimed as one of the world's great cheeses, France's Brie is characterized by an edible, downy white rind and a cream-colored, buttery-soft interior that should "ooze" when at the peak of ripeness. Though several countries (including the United States) make this popular cheese, Brie from France is considered the best and French Brie de Meaux dates back to the 8th century. Bries can be made from either whole, skimmed or partially skimmed cow's milk, which may be raw or pasteurized. Total ripening time can range from 3 to 10 weeks. The flavor of artisan versions can range from rich, sweet and nutty to more pungent and savory. Mass-produced renditions are typically milder, not as rich or complex and remain firm at room temperature. Because Brie must be perfectly ripe for the best flavor, select one that is plump and resilient to the touch; the rind might show patches of beige. See also cheese.

From The Food Lover's Companion, Fourth edition by Sharon Tyler Herbst and Ron Herbst. Copyright © 2007, 2001, 1995, 1990 by Barron's Educational Series, Inc.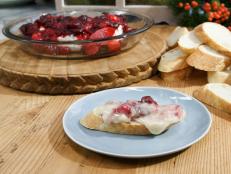 Guests are here and dinner's not ready. Don't worry! You can spare 7 minutes to pull together an easy appetizer that is elegant and impressive.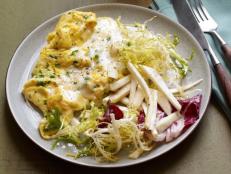 Transform your everyday eggs into a richly comforting meal in a hurry with this recipe.