Brunswick County, Virginia, was the birthplace in 1828 of this hearty squirrel-meat and onion stew. Today, it is generally made with rabbit or chicken and often contains a variety of vegetables including okra, lima beans, tomatoes and corn.

From The Food Lover's Companion, Fourth edition by Sharon Tyler Herbst and Ron Herbst. Copyright © 2007, 2001, 1995, 1990 by Barron's Educational Series, Inc.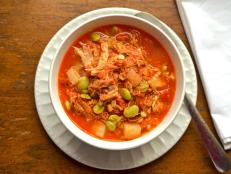 Brunswick stew, a thick, substantial stew of meat and vegetables, fits the bill of down-home comfort.