Made by churning cream until it reaches a semisolid state, butter must by U.S. law be at least 80 percent milk fat. The remaining 20 percent consists of water and milk solids. The U.S. Department of Agriculture (USDA) grades butter quality based on flavor, body, texture, color and salt. Butter packages bear a shield surrounding the letter grade (and occasionally the numerical score equivalent) indicating the quality of the contents. The grades, beginning with the finest, are AA (93 score), A (92 score), B (90 score) and C (89 score). AA and A grades are those most commonly found at the retail level. Butter may be artificially colored (with natural annatto); it may also be salted or unsalted. Unsalted butter is usually labeled as such and contains absolutely no salt. It's sometimes erroneously referred to as "sweet" butter—a misnomer because any butter made with sweet instead of sour cream is sweet butter. Therefore, expect packages labeled "sweet cream butter" to contain salted butter. Unsalted butter is preferred by many for everyday eating and baking. Because it contains no salt (which acts as a preservative), it is more perishable than salted butter and therefore stored in the freezer section of some markets. Whipped butter has had air beaten into it, thereby increasing volume and creating a softer, more spreadable consistency when cold. It comes in salted and unsalted forms. Light or reduced-calorie butter has about half the fat of regular butter, possible through the addition of water, skim milk and gelatin. It shouldn't be substituted for regular butter or margarine in frying and baking. Storing butter: Because butter absorbs flavors like a sponge, it should be wrapped airtight for storage. Refrigerate regular butter for up to one month, unsalted butter for up to two weeks. Both can be frozen for up to six months.

From The Food Lover's Companion, Fourth edition by Sharon Tyler Herbst and Ron Herbst. Copyright © 2007, 2001, 1995, 1990 by Barron's Educational Series, Inc.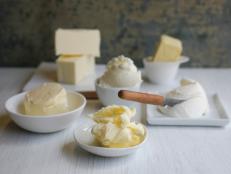 Learn how to navigate all the butters in your supermarket dairy aisle, then find out which applications require the different varieties.