These decorative molds are used to form butter into fancy shapes. They come in ceramic, metal, wood and plastic; their sizes range from small, individual portions to large 8-ounce or more family-style molds. The molds are filled with softened butter and leveled off. After chilling, the solidified butter is removed from the mold and refrigerated until ready to serve.

From The Food Lover's Companion, Fourth edition by Sharon Tyler Herbst and Ron Herbst. Copyright © 2007, 2001, 1995, 1990 by Barron's Educational Series, Inc.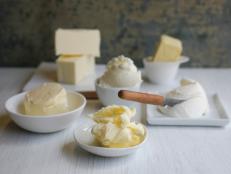 Learn how to navigate all the butters in your supermarket dairy aisle, then find out which applications require the different varieties.