An apple that's coated with a cinnamon-flavored red sugar syrup. This candy coating can either be crackly-hard or soft and gooey. A candied-apple clone is the caramel apple, which has a thick, soft caramel-flavored coating. Both versions are served on sticks for portable eating.

From The Food Lover's Companion, Fourth edition by Sharon Tyler Herbst and Ron Herbst. Copyright © 2007, 2001, 1995, 1990 by Barron's Educational Series, Inc.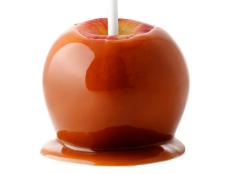 Food Network Magazine wants to know which side you're on. Vote in the poll below and tell FN Dish whether you prefer a buttery caramel apple or a bright red candy apple.