Pronunciation: [kap-oh-NAH-tah]

A Sicilian dish that is generally served as a salad, side dish or relish. Caponata is composed of eggplant, onions, tomatoes, anchovies, olives, pine nuts, capers and vinegar, all cooked together in olive oil. It's most often served at room temperature.

From The Food Lover's Companion, Fourth edition by Sharon Tyler Herbst and Ron Herbst. Copyright © 2007, 2001, 1995, 1990 by Barron's Educational Series, Inc.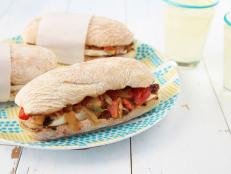 Giada's caponata is the ultimate relish for her picnic sandwiches, perfect for the Fourth of July. Serve on hearty ciabatta bread with a slice of creamy mozzarella cheese.