Pronunciation: [kar-boh-NAH-rah]

The Italian term describing a pasta dish of spaghetti (or other noodles) with a sauce composed of cream, eggs, Parmesan cheese and bits of bacon. The sauce is heated only until it begins to thicken (2 to 3 minutes). It's important that the pasta be very hot so that when the sauce is poured over it, the eggs will briefly continue to cook. Fresh green peas are sometimes added for flavor and color.

From The Food Lover's Companion, Fourth edition by Sharon Tyler Herbst and Ron Herbst. Copyright © 2007, 2001, 1995, 1990 by Barron's Educational Series, Inc.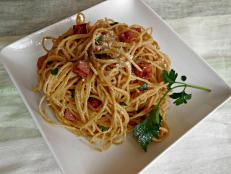 By eliminating cream and swapping ham for bacon, you can shave off 100 calories and 1,500 milligrams of sodium per serving.