This fish gets its name from its long, whiskerlike barbels (feelers), which hang down from around the mouth. Most catfish are freshwater fish, though there is also a saltwater variety sometimes referred to as hogfish. The majority of the catfish in today's market are farmed. The channel catfish, weighing from 1 to 10 pounds, is considered the best eating. The bullhead is smaller and usually weighs no more than a pound. Catfish have a tough, inedible skin that must be removed before cooking. The flesh is firm, low in fat and mild in flavor. Catfish can be fried, poached, steamed, baked or grilled. They are also well suited to soups and stews. See also fish.

From The Food Lover's Companion, Fourth edition by Sharon Tyler Herbst and Ron Herbst. Copyright © 2007, 2001, 1995, 1990 by Barron's Educational Series, Inc.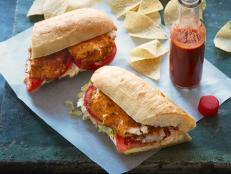 Try cooking these Catfish Po' Boys for dinner tonight as part of the Chopped Dinner Challenge.