This rather ugly, knobby, brown vegetable is actually the root of a special celery cultivated specifically for its root. It's also called celeriac, celery knob, turnip rooted celery and knob celery. Celery root tastes like a cross between a strong celery and parsley. It's available from October through April and can range anywhere from the size of an apple to that of a small cantaloupe. Choose a relatively small, firm celery root with a minimum of rootlets and knobs. Avoid those with soft spots, which signal decay. The green leaves are usually detached by the time you buy celery root. Refrigerate the root in a plastic bag for 7 to 10 days. This veggie can be eaten raw or cooked. Before using, peel and soak briefly in acidulated water to prevent discoloration. To eat raw, grate or shred celery root and use in salads. Cooked, it's wonderful in soups, stews and purées. It can also be boiled, braised, sautéed and baked. Celery root contains small amounts of vitamin B, calcium and iron.

From The Food Lover's Companion, Fourth edition by Sharon Tyler Herbst and Ron Herbst. Copyright © 2007, 2001, 1995, 1990 by Barron's Educational Series, Inc.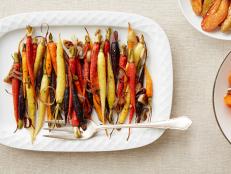 Get dozens of easy sides to go with your big feast.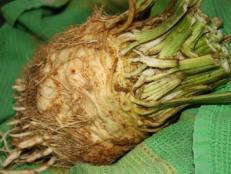 This root veggie might look a bit unusual, but don't let that scare you away from giving it a chance. Celery root (a.k.a. celeriac) is a delicious early fall treat.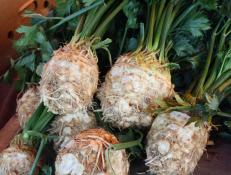 This veggie won't win any beauty contests, but it's nutritious and adds a spicy, fresh and delicious flavor to your dishes. Find out more on this underappreciated root veggie and some ideas on how to use it.