Pronunciation: [CHAYF-ing]

Chafing dishes found in the ruins of Pompeii prove that this style of cookery is nothing new. Used to warm or cook food, a chafing dish consists of a container (today, usually metal) with a heat source directly beneath it. The heat can be provided by a candle, electricity or solid fuel (such as Sterno). There's often a larger dish that is used as a water basin (like the bottom of a double boiler) into which the dish containing the food is placed. This prevents food from burning.

From The Food Lover's Companion, Fourth edition by Sharon Tyler Herbst and Ron Herbst. Copyright © 2007, 2001, 1995, 1990 by Barron's Educational Series, Inc.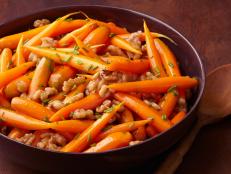 You won't run short on side dishes this year...or next.