Although known by the more glamorous name of "champagne grapes," this grape is actually the Black Corinth variety, sometimes also called the Zante grape. The seedless grape still flourishes in Greece, where it originated. It's names come from Zante, a small island off the Greek coast, and Corinth, an ancient Greek city. The grapes are extremely tiny (about ¼ inch in diameter), violet to purple in color and exceedingly sweet and juicy. In the United States, where California is the major grower, they're predominantly used to make the dried currants known as black currants or Zante currants. Champagne grapes are available in clusters in specialty produce markets from late summer to late fall. Refrigerate in a plastic bag for up to 1 week. These diminutive grapes are great with cheese and make a wonderful garnish for many dishes. See also grape; raisin.

From The Food Lover's Companion, Fourth edition by Sharon Tyler Herbst and Ron Herbst. Copyright © 2007, 2001, 1995, 1990 by Barron's Educational Series, Inc.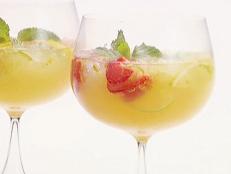 Mix up 9 tasty takes on the classic celebratory drink.