A beverage quaffed directly after drinking another (usually alcoholic) potable. For example, after a shot of whiskey, one might drink a beer "chaser" (a combination known as a boilermaker).

From The Food Lover's Companion, Fourth edition by Sharon Tyler Herbst and Ron Herbst. Copyright © 2007, 2001, 1995, 1990 by Barron's Educational Series, Inc.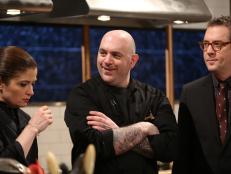 Watch the ninth battle of Food Network's Chopped After Hours to see the judges face off with the same mystery basket ingredients from the show.