Pronunciation: [chow MAYN]

A Chinese-American dish that consists of small pieces of meat (usually chicken) or shrimp and vegetables such as bean sprouts, water chestnuts, bamboo shoots, mushrooms and onions. The ingredients are usually fried separately, then combined at the last minute and served over crisp noodles.

From The Food Lover's Companion, Fourth edition by Sharon Tyler Herbst and Ron Herbst. Copyright © 2007, 2001, 1995, 1990 by Barron's Educational Series, Inc.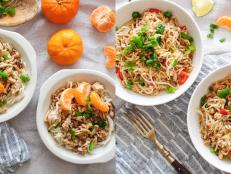 Here we have your favorite takeout recipe made right at home — for both you and your kids.