Pronunciation: [CHOOR-roh]

Similiar to a cruller, this Spanish and Mexican specialty consists of a sweet-dough spiral that is deep-fried and eaten like a doughnut. Churros are usually coated with a mixture of cinnamon and powdered (or granulated) sugar.

From The Food Lover's Companion, Fourth edition by Sharon Tyler Herbst and Ron Herbst. Copyright © 2007, 2001, 1995, 1990 by Barron's Educational Series, Inc.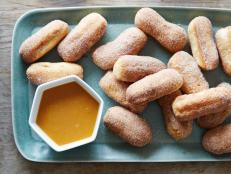 Love deep-fried foods but dislike the process of deep-frying? You're in luck with these fuss-free churro bites.