vinegar made from cider, usually apple.

From The Food Lover's Companion, Fourth edition by Sharon Tyler Herbst and Ron Herbst. Copyright © 2007, 2001, 1995, 1990 by Barron's Educational Series, Inc.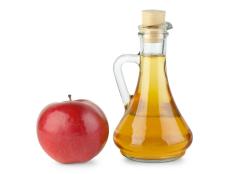 There's nothing better than apple cider vinegar for salad dressing and BBQ sauce, but this ingredient has gained popularity as a cure-all tonic -- is it worth the hype?.