1. Considered one of the world's most important spices, cloves are the dried, unopened flower bud of the tropical evergreen clove tree. Reddish brown and nail-shaped, their name comes from clavus, the Latin word for nail. Cloves are sold whole or ground and can be used to flavor a multitude of dishes ranging from sweet to savory. 2. The term clove also refers to a segment of a bulb, such as in garlic clove.

From The Food Lover's Companion, Fourth edition by Sharon Tyler Herbst and Ron Herbst. Copyright © 2007, 2001, 1995, 1990 by Barron's Educational Series, Inc.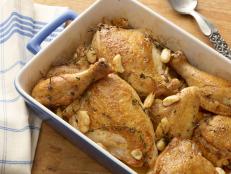 If you're not embracing Valentine's Day this year, swoon over this bold menu of Alton's garlicky chicken and Food Network Magazine's cake for one.