In cooking, this term refers to covering food with an outer "coating." It can mean dipping or rolling food (such as chicken) in seasoned breadcrumbs or flour. The food can be dipped into beaten eggs before being coated with the dry mixture. Coating food in this manner usually precedes frying. A semiliquid, such as mayonnaise or sauce, can also be used to coat food.

From The Food Lover's Companion, Fourth edition by Sharon Tyler Herbst and Ron Herbst. Copyright © 2007, 2001, 1995, 1990 by Barron's Educational Series, Inc.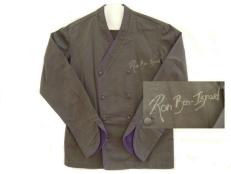 Ron Ben-Israel wants to give his Sweet Genius fans a chance to win a prize: his chef's coat, autographed.