Hollywood's Brown Derby Restaurant made this salad famous in the 1920s, when restaurant manager Bob Cobb invented it as a way to use leftovers. It consists of finely chopped chicken or turkey, bacon, hard-cooked eggs, tomatoes, avocado, scallions, watercress, cheddar cheese and lettuce tossed with a vinaigrette dressing and topped with an ample portion of crumbled Roquefort or other blue cheese.

From The Food Lover's Companion, Fourth edition by Sharon Tyler Herbst and Ron Herbst. Copyright © 2007, 2001, 1995, 1990 by Barron's Educational Series, Inc.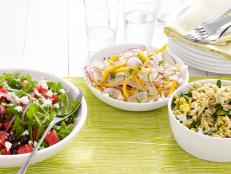 Toss together one of these fresh and easy combos from Food Network Magazine for your next party.