Originating in Germany, this pink sparkling wine is a mixture of champagne, sparkling burgundy and sugar. Its origin is traced back to the Bavarian practice of mixing bottles of previously opened Champagne with cold sparkling Burgundy so the Champagne wouldn't be wasted. This mixture was called kalte ende ("cold end"); over the years, ende transliterated to ente ("duck"). The wines used to make cold duck are often of inferior quality. The resulting potation is quite sweet with few other distinguishable characteristics.

From The Food Lover's Companion, Fourth edition by Sharon Tyler Herbst and Ron Herbst. Copyright © 2007, 2001, 1995, 1990 by Barron's Educational Series, Inc.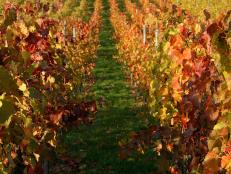 "Septembral" is a poetic word for autumn and the cooler weather and richer, earthier food that come with it. These six wines fit the Septembral theme (and beyond).