Butter creamed with other ingredients such as herbs, garlic, wine, shallots and so on. The French term for compound butter is beurre composé.

From The Food Lover's Companion, Fourth edition by Sharon Tyler Herbst and Ron Herbst. Copyright © 2007, 2001, 1995, 1990 by Barron's Educational Series, Inc.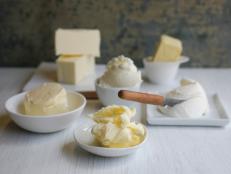 Learn how to navigate all the butters in your supermarket dairy aisle, then find out which applications require the different varieties.