A metal or plastic device used to cut decorative shapes out of dough that has been rolled flat. Cookie cutters are available singly or in sets. Dipping a cookie cutter into flour or granulated sugar will prevent it from sticking to soft doughs. A rolling cookie cutter has a wooden handle at the end of which is a metal or plastic cylinder marked with raised designs. When the cutter is rolled across the dough, it cuts a jigsaw-puzzle pattern of differently shaped cookies without any wasted dough.

From The Food Lover's Companion, Fourth edition by Sharon Tyler Herbst and Ron Herbst. Copyright © 2007, 2001, 1995, 1990 by Barron's Educational Series, Inc.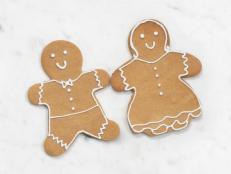 Our very favorite one costs just $1!