A wine labeled "cooking wine" is generally an inferior wine that would not be drunk on its own. It typically lacks distinction and flavor and is sometimes adulterated with salt. The rule of thumb when cooking with wine is only to use one you'd drink and to be sure the wine's flavor complements the food with which it's paired.

From The Food Lover's Companion, Fourth edition by Sharon Tyler Herbst and Ron Herbst. Copyright © 2007, 2001, 1995, 1990 by Barron's Educational Series, Inc.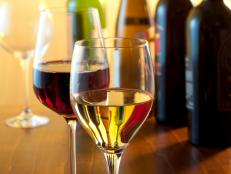 Don't stress about what kind of wine to cook with. It's pretty straightforward: If it tastes good in the glass, it'll taste good in the dish.