Finely ground cornmeal, corn flour comes in yellow and white and is used for breading and in combination with other flours in baked goods. Corn flour is milled from the whole kernel, while cornstarch is obtained from the endosperm portion of the kernel. In British recipes the term "cornflour" is used synonymously with the U.S. word cornstarch. masa harina is a special corn flour that's the basic ingredient for corn tortillas.

From The Food Lover's Companion, Fourth edition by Sharon Tyler Herbst and Ron Herbst. Copyright © 2007, 2001, 1995, 1990 by Barron's Educational Series, Inc.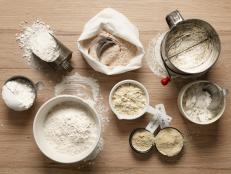 Learn what differentiates types of flour and how to choose the one that's best for your desired baking outcome.