Pronunciation: [krew-SIH-fer-uhs]

The scientific name for a group of vegetables that research has proven may provide protection against certain cancers. Cruciferous vegetables contain antioxidants (beta carotene and the compound sulforaphane). These vegetables, which are all high in fiber, vitamins and minerals, are: broccoli, Brussels sprouts, cabbage, cauliflower, chard, kale, mustard greens, rutabagas and turnips.

From The Food Lover's Companion, Fourth edition by Sharon Tyler Herbst and Ron Herbst. Copyright © 2007, 2001, 1995, 1990 by Barron's Educational Series, Inc.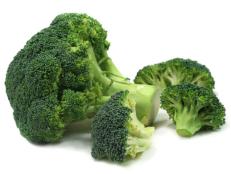 In honor of World Cancer Day, we're focusing on cruciferous veggies (from the cabbage family), that have been proven to help protect against certain cancers.