From a plant native to southern Asia, this fragrant herb looks like a small, shiny lemon leaf and has a pungent curry fragrance. Its flavor is essential in a substantial percentage of East Indian fare. Most Indian markets sell fresh curry leaves. Choose those that are bright green, with no sign of yellowing or wilting. They can be refrigerated in an airtight container up to 2 weeks. Packaged, dried curry leaves—also available in Indian markets—can be substituted for fresh but lack their snappy flavor. Also called kari leaf.

From The Food Lover's Companion, Fourth edition by Sharon Tyler Herbst and Ron Herbst. Copyright © 2007, 2001, 1995, 1990 by Barron's Educational Series, Inc.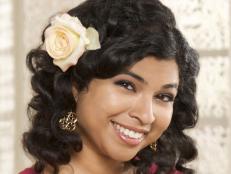 Aarti proves that curry is not just a powder by making four distinct curry dishes.