1. A thin, tender slice of meat (usually from lamb, pork or veal) taken from the leg or rib section. Cutlets are best when quickly cooked, such as sautéed or grilled. 2. A mixture of finely chopped meat, fish or poultry that's bound with a sauce or egg mixture and formed into a cutlet shape. Such a formed cutlet is often dipped into beaten egg and then into breadcrumbs before being fried.

From The Food Lover's Companion, Fourth edition by Sharon Tyler Herbst and Ron Herbst. Copyright © 2007, 2001, 1995, 1990 by Barron's Educational Series, Inc.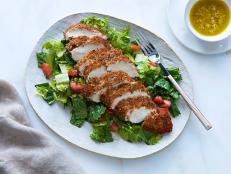 Take the Chopped Dinner Challenge tonight and cook this recipe for Hazelnut Chicken, inspired by a basket ingredient on Food Network's Chopped.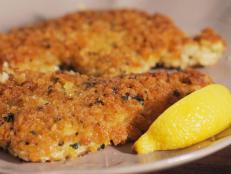 Follow these easy steps for crispy, tender cutlets, then watch our how-to video.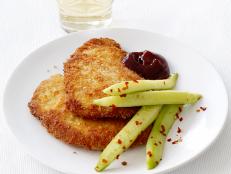 Get inspired by Chopped Junior to cook a crispy, juicy pork cutlet at home.