Pronunciation: [dehl-MAHN-ih-koh]

Named after the 19th-century New York restaurant of the same name whose owner-chef created this dish. It consists of cooked and creamed diced (or mashed) potatoes topped with grated cheese and buttered breadcrumbs, then baked until golden brown.

From The Food Lover's Companion, Fourth edition by Sharon Tyler Herbst and Ron Herbst. Copyright © 2007, 2001, 1995, 1990 by Barron's Educational Series, Inc.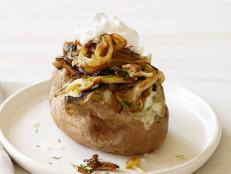 Serve these spuds from Food Network Magazine as the main dish: They're loaded with tasty toppings.