Also called a Western sandwich, this classic consists of an egg scrambled with chopped ham, onions and green peppers, sandwiched with two slices of bread and garnished with lettuce. A Denver omelet has a filling of ham, onions and green peppers.

From The Food Lover's Companion, Fourth edition by Sharon Tyler Herbst and Ron Herbst. Copyright © 2007, 2001, 1995, 1990 by Barron's Educational Series, Inc.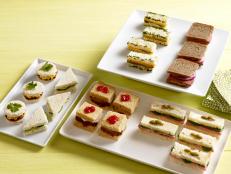 Food Network Magazine has given an old-fashioned favorite a fun new twist.