A dark, dense baked chocolate item (such as a cake or cookie). On the opposite end of the spectrum is the airy, white angel food cake.

From The Food Lover's Companion, Fourth edition by Sharon Tyler Herbst and Ron Herbst. Copyright © 2007, 2001, 1995, 1990 by Barron's Educational Series, Inc.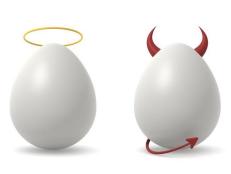 Food Network Kitchens comes up with an annual list of food trends to look for each coming year. For 2012, look for angel/devil eating, a balance of good and bad.