A kitchen tool with a sharp steel pin, usually spring-mounted, which pokes a tiny hole in the large end of an egg. This hole prevents the egg from cracking because the air inside (which expands during boiling) can gradually escape.

From The Food Lover's Companion, Fourth edition by Sharon Tyler Herbst and Ron Herbst. Copyright © 2007, 2001, 1995, 1990 by Barron's Educational Series, Inc.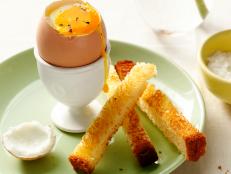 Egg lovers, rejoice! Here's a recipe for every Sunday until this time next year from Food Network Magazine.