egg roll skins (wrappers)
Paper thin squares of dough made with flour, water and salt. They're larger than won ton skins and are used to make egg rolls and spring rolls. They can be purchased packaged in Asian markets and some supermarkets. Refrigerate for up to 2 months; freeze for up to 6 months.

From The Food Lover's Companion, Fourth edition by Sharon Tyler Herbst and Ron Herbst. Copyright © 2007, 2001, 1995, 1990 by Barron's Educational Series, Inc.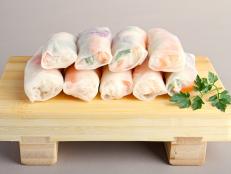 At just 33 calories each, spring roll wrappers deserve a permanent spot on your weekly menu.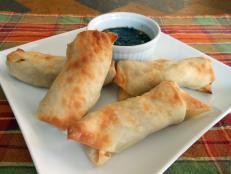 Take-out egg rolls aren't the healthiest fare, but Robin's lightened-up, baked-not-fried recipe is just the thing to soothe your cravings without busting your waistline.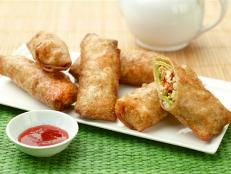 It's no wonder Guy's golden-brown egg rolls are this week's Most Popular Pin of the Week; they're packed with garlic-ginger chicken and fried until crispy.