Egg yolk or egg white mixed with a small amount of water or milk. It's brushed over breads, pastry and other baked goods before baking to give them color and gloss.

From The Food Lover's Companion, Fourth edition by Sharon Tyler Herbst and Ron Herbst. Copyright © 2007, 2001, 1995, 1990 by Barron's Educational Series, Inc.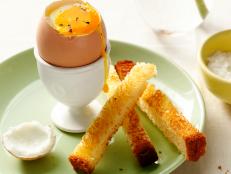 Egg lovers, rejoice! Here's a recipe for every Sunday until this time next year from Food Network Magazine.