A breakfast or brunch specialty consisting of two toasted English muffin halves, each topped with a slice of ham or Canadian bacon, a poached egg and a dollop of hollandaise. The most popular legend of the dish's origin says that it originated at Manhattan's famous Delmonico's Restaurant when regular patrons, Mr. and Mrs. LeGrand Benedict, complained that there was nothing new on the lunch menu. Delmonico's maitre d' and Mrs. Benedict began discussing possibilities and eggs Benedict was the result.

From The Food Lover's Companion, Fourth edition by Sharon Tyler Herbst and Ron Herbst. Copyright © 2007, 2001, 1995, 1990 by Barron's Educational Series, Inc.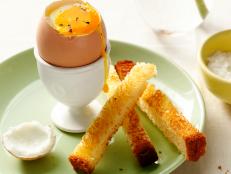 Egg lovers, rejoice! Here's a recipe for every Sunday until this time next year from Food Network Magazine.