Pronunciation: [ehs-PREHS-oh]

A dark, strong coffee made by forcing steam (or hot water) through finely ground, Italian-roast coffee especially blended for making espresso. This form of brewing produces a thin layer of creamy, dark beige froth on the coffee's surface. Espresso is served in a tiny espresso (or demitasse) cup. An espresso doppio [DOHP-pyoh] is simply a double espresso.

From The Food Lover's Companion, Fourth edition by Sharon Tyler Herbst and Ron Herbst. Copyright © 2007, 2001, 1995, 1990 by Barron's Educational Series, Inc.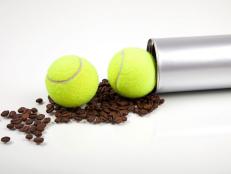 Serena Williams cries out for coffee in the middle of a tennis match — and gets the jolt she needs to win.