Pronunciation: [fah-HEE-tuhs]

Skirt steak that has been marinated in a mixture of oil, lime juice, red pepper and garlic for at least 24 hours before being grilled. The cooked meat is cut into strips that are then usually wrapped (burrito-style) in warm tortillas, accompanied by a variety of garnishes including grilled onions and sweet peppers, guacamole, refried beans and salsa.

From The Food Lover's Companion, Fourth edition by Sharon Tyler Herbst and Ron Herbst. Copyright © 2007, 2001, 1995, 1990 by Barron's Educational Series, Inc.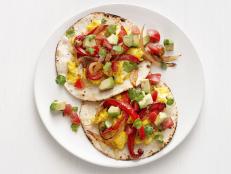 Ready to eat in only 30 minutes, Food Network Magazine's egg-stuffed tortillas feature tender peppers and onions, just like the classic fajitas you know and love.