Pronunciation: [feh-LAH-fehl]

A Middle Eastern specialty consisting of small, deep-fried croquettes or balls made of highly spiced, ground chickpeas. They're generally tucked inside pita bread, sandwich-style, but can also be served as appetizers. A yogurt- or tahini-based sauce is often served with falafel.

From The Food Lover's Companion, Fourth edition by Sharon Tyler Herbst and Ron Herbst. Copyright © 2007, 2001, 1995, 1990 by Barron's Educational Series, Inc.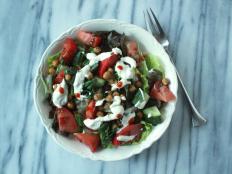 Treat yourself to a week of delicious lunches by making the components for The Kitchen's Deconstructed Falafel Salad.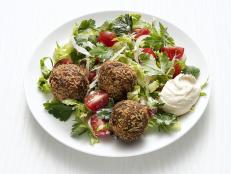 If you've just about had it with your usual salad routine of lettuce and dressing, it's time to dress up your greens with one hearty, satisfying addition: falafel.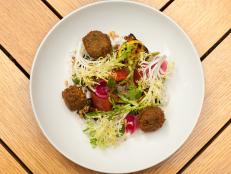 Grilled Squash Salad from Narcissa's Chef John Fraser