This ancient cereal grain belongs to the wheat family and dates as far back as 20,000 years. Also known as emmer wheat, farro was the primary grain cultivated by early Egyptians and became a staple of the Roman legions during their occupation of Egypt. Over time, farro's popularity gave way to higher-yielding, easier-to-grow varieties of wheat grains. However, farro began reemerging in Italy and is now attracting attention from cooks around the world. Tuscany's Garfagnana area has been granted protected geographical indication status for its Farro della Garfagnana. Though farro is often confused with spelt (which is sometimes mistakenly called farro), they are different grains. Farro has a dense chewy structure and a rich, nutty flavor. It can be used in pasta, bread and for risotto-style dishes.

From The Food Lover's Companion, Fourth edition by Sharon Tyler Herbst and Ron Herbst. Copyright © 2007, 2001, 1995, 1990 by Barron's Educational Series, Inc.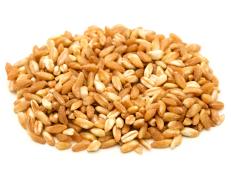 This ancient whole grain has been making a comeback! It's versatile, easy-to-make and downright delicious.