Common fennel is the variety from which the oval greenish-brown fennel seeds come. The seeds are available whole and ground and are used in both sweet and savory foods, as well as to flavor many liqueurs. They should be stored in a cool, dark place for no more than six months.

From The Food Lover's Companion, Fourth edition by Sharon Tyler Herbst and Ron Herbst. Copyright © 2007, 2001, 1995, 1990 by Barron's Educational Series, Inc.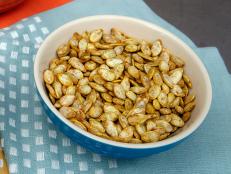 Learn three new ways to flavor this fall-favorite snack.