Long, thin and fibrous, this boneless cut of beef comes from the animal's lower hindquarters. It's usually tenderized by marinating, then broiled or grilled whole. In the case of London broil, the flank steak is cut and cooked in large pieces, then thinly sliced across the grain.

From The Food Lover's Companion, Fourth edition by Sharon Tyler Herbst and Ron Herbst. Copyright © 2007, 2001, 1995, 1990 by Barron's Educational Series, Inc.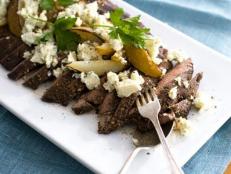 Flank steaks are lean cuts from the rear side of the cow and are characterized by rich, deep, beefy flavor and a slightly chewy texture.