A boneless cut of meat that's similar in texture and flavor to a flank steak, though slightly more tender. Whereas the flank steak is taken from the lower part of the animal, flap meat is taken from a section above the flank in the loin area. Flap meat, called bavette d'aloyau in France, benefits from being cooked quickly over high heat and not much past medium-rare. As with flank steak or skirt steak, it's important to cut flap steak across the grain for tenderness.

From The Food Lover's Companion, Fourth edition by Sharon Tyler Herbst and Ron Herbst. Copyright © 2007, 2001, 1995, 1990 by Barron's Educational Series, Inc.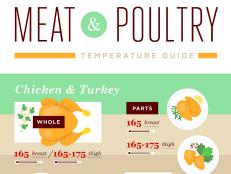 Use our internal-temperature chart to serve perfectly cooked meat every time.