n. 1. A soft drink (such as root beer) with a scoop or two of ice cream floating in it. 2. A small amount of liquid (such as liqueur or cream) that sits atop another liquid without mixing in. float v. To slowly pour a liquid (such as liqueur or cream) onto the top of another liquid so that it floats on top of the liquid below. In the case of a pousse-café, several liquids are floated, one on top of the other, so as not to mix together.

From The Food Lover's Companion, Fourth edition by Sharon Tyler Herbst and Ron Herbst. Copyright © 2007, 2001, 1995, 1990 by Barron's Educational Series, Inc.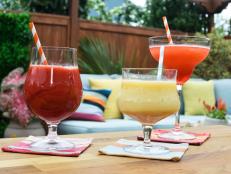 You can't have a pool party without your floaters--liqueurs that float on the top of your drink! The Kitchen has 3 frozen cocktail floater ideas perfect for poolside sipping.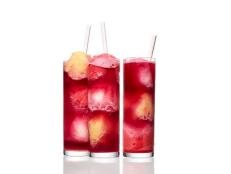 Try a new take on sangria this summer: sparkling red wine poured over fruit sorbet.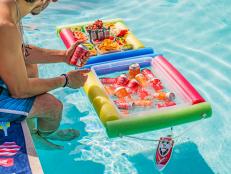 You can even attach a remote-control boat, so the the food and drinks come straight to your unicorn pool float.