Pronunciation: [foh-KAH-chyah]

This Italian bread begins by being shaped into a large, flat round that is liberally brushed or drizzled with olive oil and sprinkled with salt. Slits cut into the dough's surface may be stuffed with fresh rosemary before the bread is baked. Focaccia can be eaten as a snack, or served as an accompaniment to soups or salads.

From The Food Lover's Companion, Fourth edition by Sharon Tyler Herbst and Ron Herbst. Copyright © 2007, 2001, 1995, 1990 by Barron's Educational Series, Inc.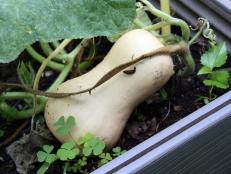 Typically winter squash isn't ready until mid-October, but I get to enjoy it extra early since I grow this special variety in my garden.